Basisschool "De Ster" herdenkt Australische gesneuvelden / Tribute Australian soldiers - Poperinge - 11/11/2008
In het kader van de herdenking van de gesneuvelden van de 1ste Wereldoorlog op 11 november, legden de leerlingen van de basisschool van het Gemeenschapsonderwijs 'De Ster" kransen neer bij de graven van 10 Australische soldaten die begraven liggen op het Poperinge New Military Cemetery - kerkhof in Poperinge. Deze kransen (wreaths) werden gemaakt door leerlingen van de Strathpine West State School in Australie en ons bezorgd op kosten van de Australische regering.

On the 90th anniversary of the end of World War One, the children of Basisschool de Ster in Poperinge in Belgium remember Australian Diggers killed in heavy fighting in the area and buried in their war cemetery. The wreaths were made by the children of Strathpine West State school as part of an exchange program involving schools in Australia, Belgium and France. The organiser is our Media Officer, Allen Callaghan.
The graves are those of 10 members of the 11th Australian Machine Gun Coy who were all killed on the one day in September 1917. They are amongst the 61,000. Australians who died in action between 1914 and 1918 and who are buried at Poperinge New Military Cemetery.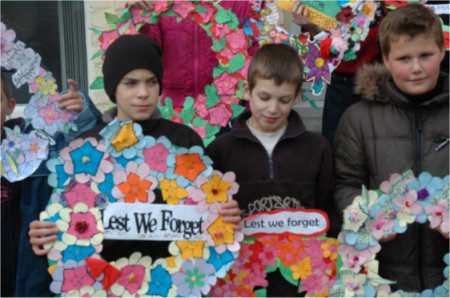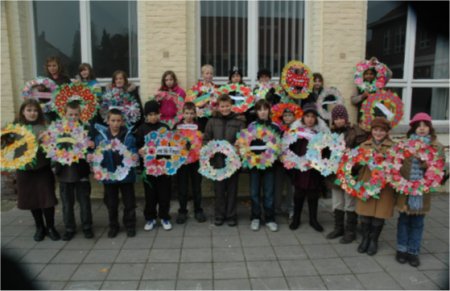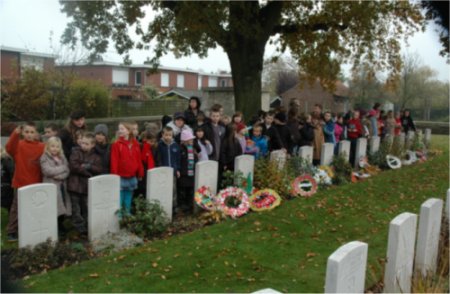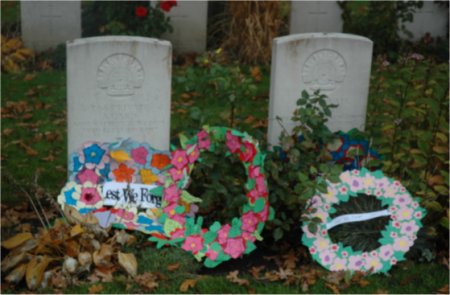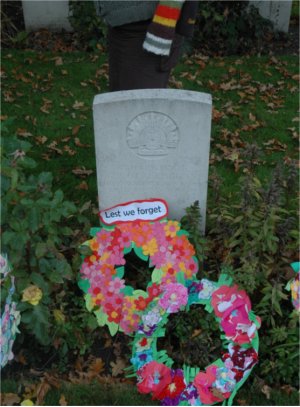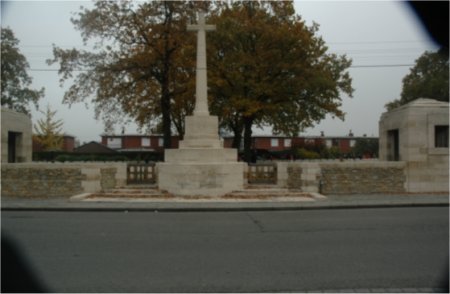 Dank aan Martine Viaene, Directie BSGO "Het Vroonhof" voor de info en foto's.
Deze rubriek staat open voor iedereen.
Ook jij kunt foto's doorsturen voor de rubriek "Je was er bij". Ons adres: info@westhoek.be
Everyone can send pictures for the pages "You were there". Our address: info@westhoek.be