Inhuldiging gedenksteen / Unveiling memorial stone - Langemark - 27/09/2008
Op vrijdag 26 september 2008 werden op de begraafplaats Cement House te Langemark 3 onbekende Britse soldaten bijgezet waarvan één van de Hampshire Regiment en één van de York & Lancaster Regiment. De stoffelijke resten werden gevonden op het industrieterrein nabij Boezinge.
Nauwelijks enkele honderden meter verder werd op zaterdag 27 september een gedenksteen onthuld door Harry Patch. Hij is de laatste Britse veteraan van de Groote Oorlog die aan het westelijk fornt vocht. Harry Patch is maar liefst 110 jaar oud. Het werd een intieme plechtigheid, maar een unieke ervaring.
Please find below some photographs of the unveiling of the memoral stone by Harry Patch. The unveiling took place at the Steenbeek at Langemark on Saturday, September 27th, 2008. Only one day before, 3 unknown British soldiers had been buried at Cement House Cemetery, only a few hunderd meters further.
The memorial stone to be unveiled at the exact place where Harry Patch crossed the Steenbeek 91 years ago.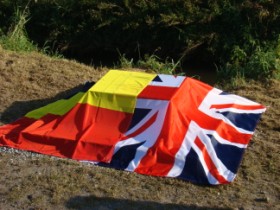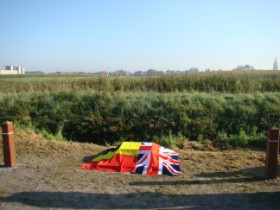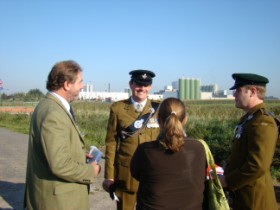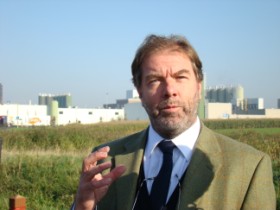 Arrival of Harry Patch and a picture with one of his biggest 'fans'.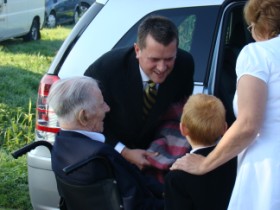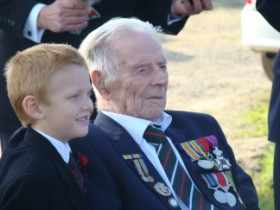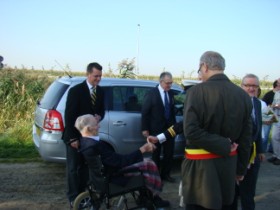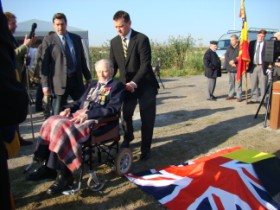 Greeting with Alain Wyffels, Mayor of Langemark.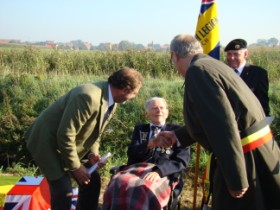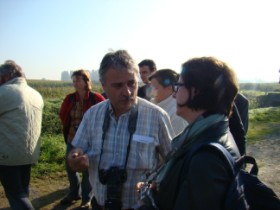 Harry Patch, the last Tommy, 110 years old.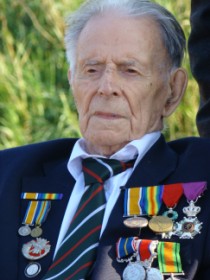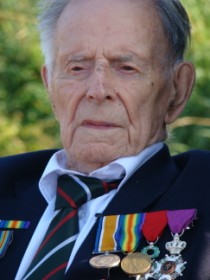 Address by Richard Van Emden, Harry Patch's biographer.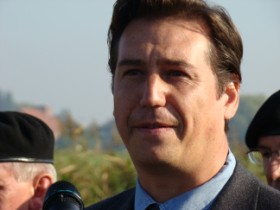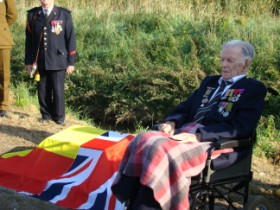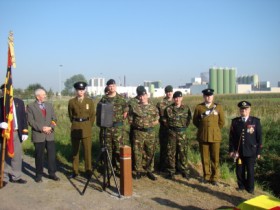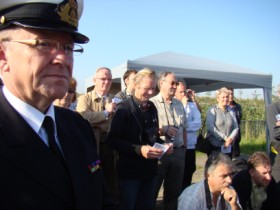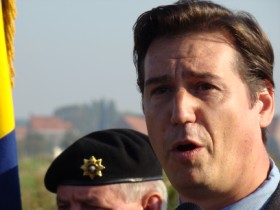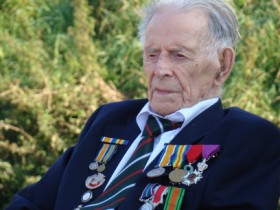 At the left, view at Langemark, the place towards Harry Patch crossed the Steenbeek, on August 16th, 1917. 91 years ago, anno 2008.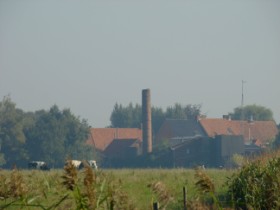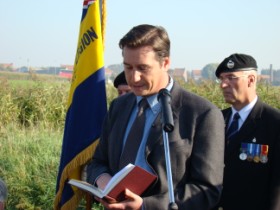 The bridge over the Steenbeek.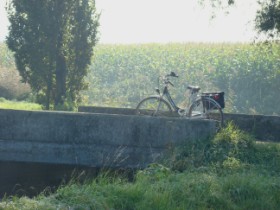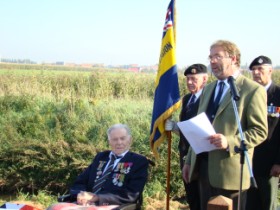 Address by Peter Barton, military historian.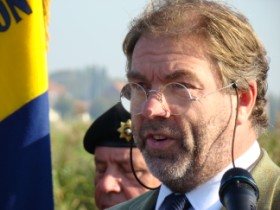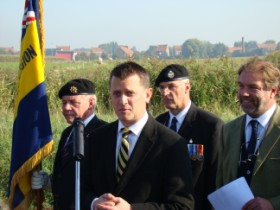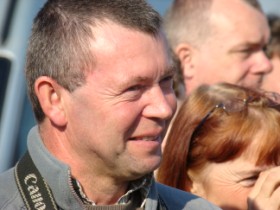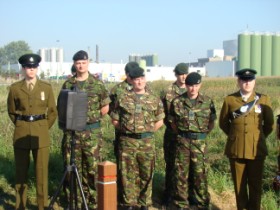 Address by a responsible of the Duke of Cornwall's Light Infantry, the same unit of Harry Patch in 1917. These soldiers came especially from Germany to attend the ceremony.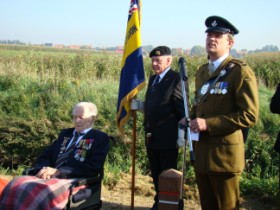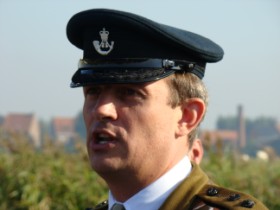 Address by Burgemeester Alain Wyffels, Mayor of Langemark. Followed by a message of thanks from Harry Patch.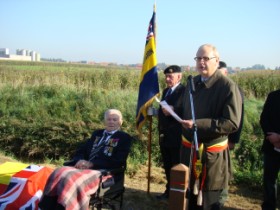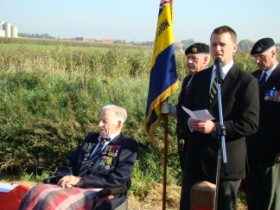 'Thanks you, thank you so much', said Harry.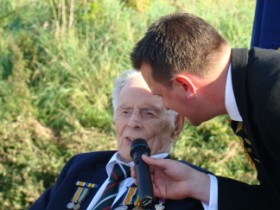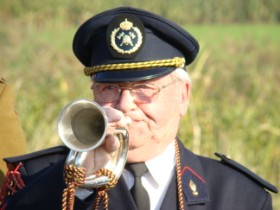 The Last Post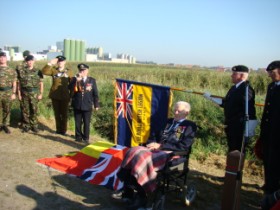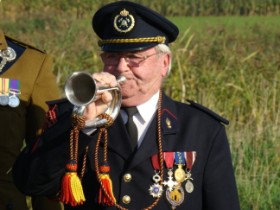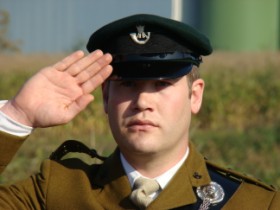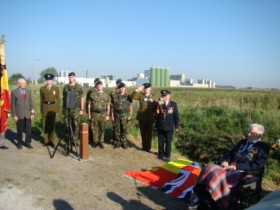 The unveiling of the memorial by Harry Patch. He took the initiative for erecting the stone and even paid for it.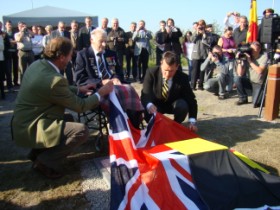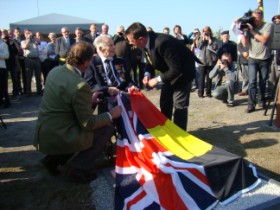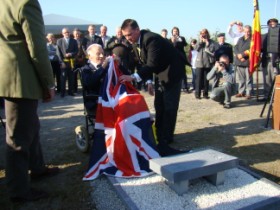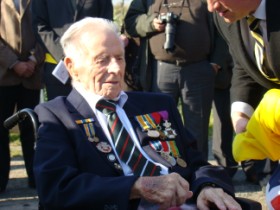 Harry reads the text on the stone and lays a wreath.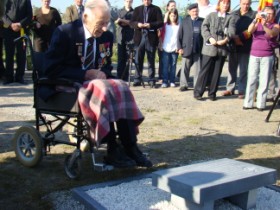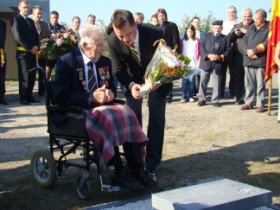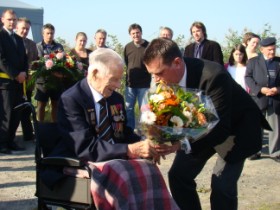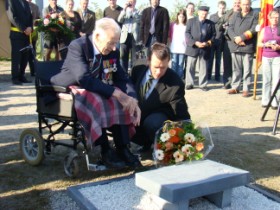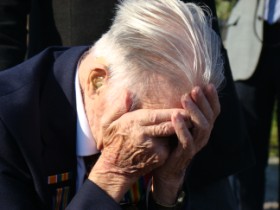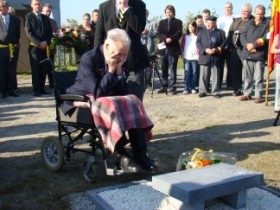 Laying of other wreaths.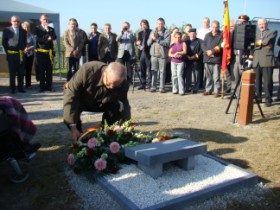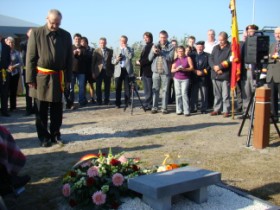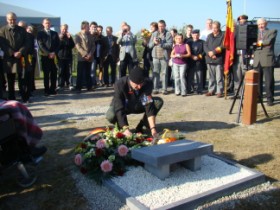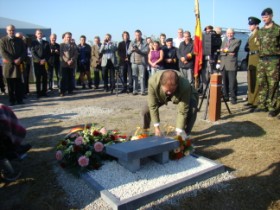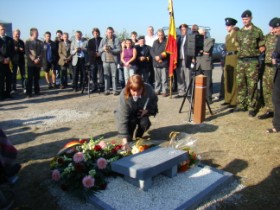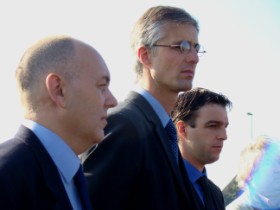 The Reveille.
Click on the picture of the stone for a bigger picture.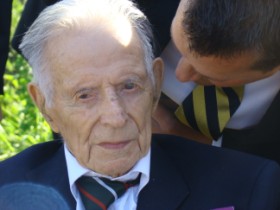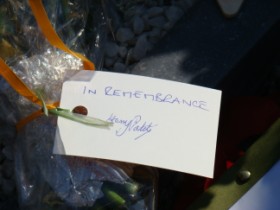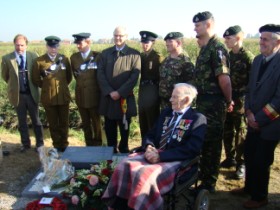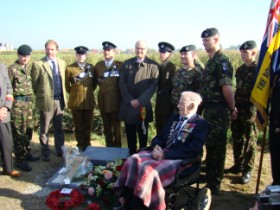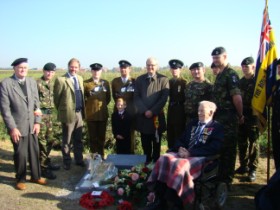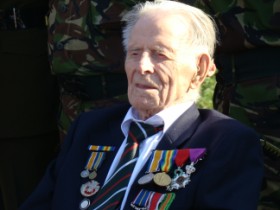 Giving a present to the last Tommy.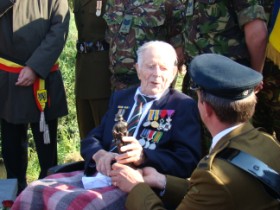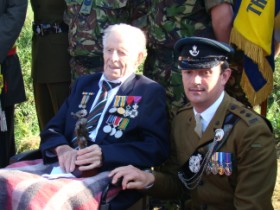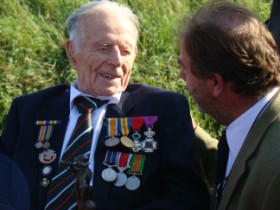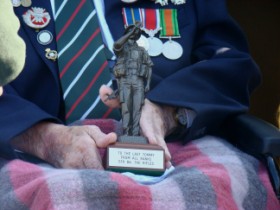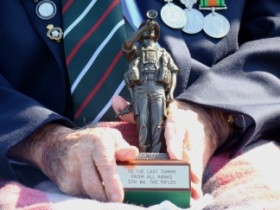 At the left Jan Matsaert (webmaster greatwar.be) with Harry. At the right Antoon Verschoot and Benoit Mottrie from the Last Post Association.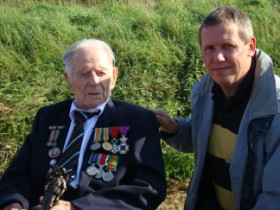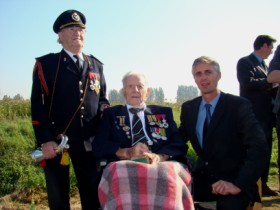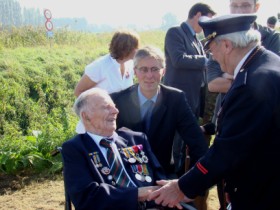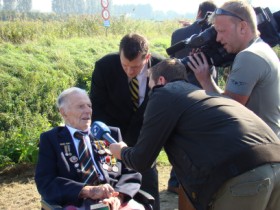 Afterwards a reception took place at the Hazebrug at Sint-Juliaan.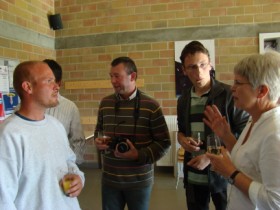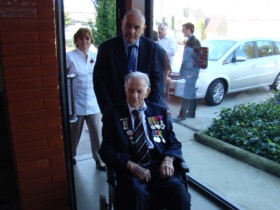 At the right, Robert Missinne (webmaster greatwar.be).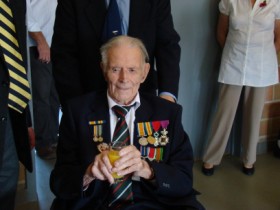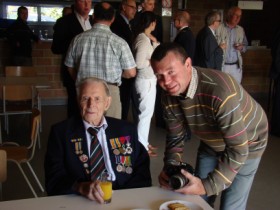 Mayor Alain Wyffels presents a book to Harry.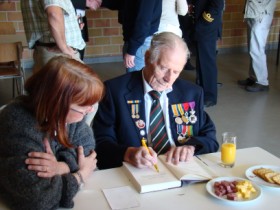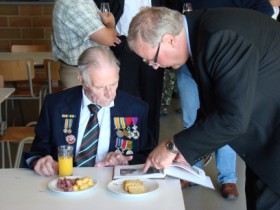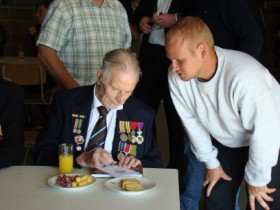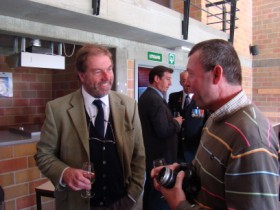 Deze rubriek staat open voor iedereen.
Ook jij kunt foto's doorsturen voor de rubriek "Je was er bij". Ons adres: info@westhoek.be
Everyone can send pictures for the pages "You were there". Our address: info@westhoek.be